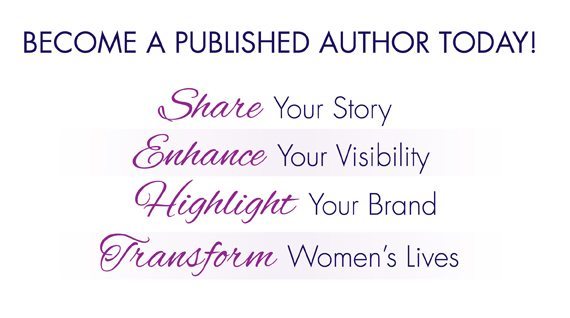 The Inspired Living Publishing Kindle Series is the perfect publishing platform for the visionary business woman, coach or author who is ready to boost her visibility, share her wisdom and intimately connect with the women she is called to serve, but is not quite ready for the exposure or investment of our high-visibility print publishing and list-building projects. Our Kindle publishing package was created to meet you where you are. Not a business owner, but have a blog or online presence and wish to share your story as an author? We'd love to have you! 
Why self-publish when you can publish with a six time bestselling publishing house? Imagine being able to say you are a published author with a bestselling publisher and the leader in inspirational multimedia dedicated to serving and inspiring women. Inspired Living Publishing's Authentic StorytellingTM editorial model has created six bestselling books, created over 180 bestselling authors, and our books are transforming women's lives one story at a time. 
In February of 2015 ILP's third book Inspiration for a Woman's Soul: Choosing Happiness, became an International Bestseller in multiple categories within hours. Choosing Happiness quickly dominated the Amazon Bestseller lists and even bumped Tony Robbins book as well as Oprah's Book Club Pick, Ruby,  to claim the #1 spot on multiple lists. Twenty-seven women who believed in their dreams and their stories are now International Bestselling Authors.  Months later, ILP's released Cultivating Joy, the second book in the Inspiration for a Woman's Soul series, topped multiple  BESTSELLER LISTS bringing 38 women to bestseller status.
Hear from some of our sacred authors
Tina van Leuven




www.InnerDelight.com

Mary E. Pritchard, Ph.D.




www.DrMaryPritchard.com

Tiffany Kane




www.WidowsWithKids.com
 

The Secret that Sets Us Apart:


We bring you the AUDIENCE & the EXPOSURE
Inspired Living Publishing (ILP) is so much more than a heart-centered boutique book publishing company! ILP is a part of my sacred circle of thriving inspirational multimedia brands – each dedicated to serving women around the world by bringing them the best in inspirational, empowering content from heart-centered, mission-driven women like YOU!
ILP's sister brands are comprised of some of the leading multimedia brands in the women's inspirational and self-empowerment genres. Over 44,000 readers and listeners and 21,000 social media followers consistently turn to my brands for inspiration, wisdom and encouragement.
You may recognize one or more of my brands including: Aspire Magazine – the premier inspirational magazine for women; Inspired Living Secrets Video Event,  Inspired Living Giveaway (entering its fifth season),  Authentic Conversations with Extraordinary Women, and coming in 2017, Inspired Living University. When you publish with Inspired Living Publishing you become part of my sacred family.


Imagine…
What it would feel like to say

Yes, I am a published author

with the leader in the women's inspirational multimedia publishing genre (a thriving women's magazine, six bestselling books, highly successful annual video series, and an audience of 44,000 women and 23,000 social media followers ). That's much more powerful than saying you're a self-published author, isn't it? 
Being a part of the sacred energy and intent of this inspirational ebook series and discovering what that exposure can do for your brand and mission. (Your message is meant to be heard– and we have the audience yearning to hear it.) 
Being able to intimately connect with your target audience of women dedicated to personal development, self-discovery, transformation, positive thinking, conscious business and success principles. Women eager for YOUR wisdom and message.
The exposure and buzz that collaborating in a Kindle launch with your co-authors and some very special surprise guests, would generate. Priceless Exposure and List-Building Opportunity! 
Invitation to my PRIVATE Visionary Female Author Facebook Group dedicated to supporting female authors in enhancing blog traffic and comments, growing their Facebook and Twitter platform and forming collaborative partnerships – already over 950 women strong. A powerful community of like-minded women!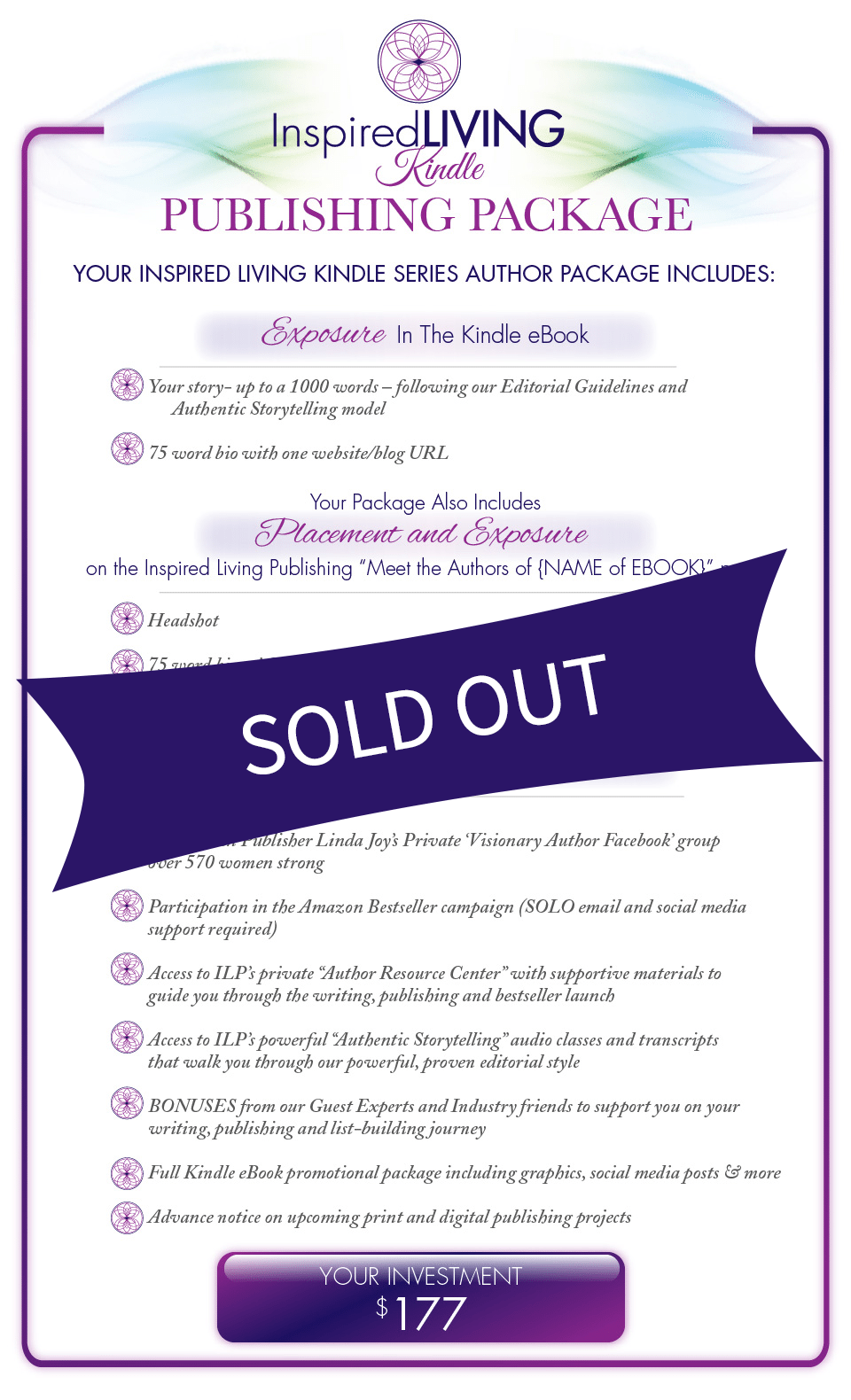 You have the details!
Now it's time to

RESERVE YOUR PLACEMENT


in One or More of Our Inspired Living Kindle ebooks.
ACT NOW! Space is Limited! The shopping cart will close when an ebook has been filled.

Below you will find our current Kindle project(s) that is accepting authors. Click the image below to learn more about becoming a published author with Inspired Living Publishing.
NEW TITLES TO BE ANNOUNCED IN 2016!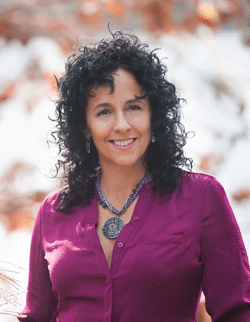 Best-selling inspirational publisher, Host, and Authentic Marketing and List-Building Catalyst Linda Joy is one of today's premier voices in women's inspirational publishing. Her six multimedia brands serve over 44,000 women who embrace her message of love, feminine wisdom, and self-empowerment. Ms. Joy is passionate about encouraging women to rediscover and reconnect with their inner wisdom, and empowering them to live deeper, more authentic, inspired lives both personally and professionally.
Linda is the publisher of Aspire Magazine, the premier inspirational digital magazine for women celebrating it's 10th anniversary, as well as the Creatrix behind Inspired Living Publishing,  which has published six chart-topping bestselling books including the print books,  Inspiration for a Woman's Soul: Choosing Happiness, Inspiration for a Woman's Soul: Cultivating Joy, Embracing Your Authentic Self, and A Juicy, Joyful Life. Their fifth book Inspiration for a Woman's Soul: Opening to Gratitude & Grace will be released in August of 2015. Inspired Living Publishing's Kindle Series Division, launched in fall of 2015, released two bestselling titles including The Wisdom of Midlife Women and Unleash Your Inner Magnificence. Over 180 visionary women have become bestselling authors thanks to these sacred projects and the support and expertise of Inspired Living Publishing's heart-centered team.
In her role as an Authentic Marketing and List-Building Catalyst, Linda offers high-visibility marketing, publishing, and list building programs to select heart-centered female entrepreneurs, coaches, and visionary authors. Linda's proven feminine collaborative model puts her clients' brands, messages, and wisdom in front of the women they are meant to serve while enhancing their expert status. Learn more about Linda's programs and upcoming events at www.Linda-Joy.com.

Inspired Living Publishing, LLC. (ILP) is an inspirational boutique publishing company, founded in 2010 by Aspire Magazine Publisher Linda Joy. As a heart- centered, mission driven publishing company ILP is dedicated to publishing projects that inspire hope, love and transformation and empower women to believe in the power of possibility.
Inspired Living Publishing's family of bestselling books include Inspiration for a Woman's Soul: Choosing Happiness, A Juicy, Joyful Life: Inspiration from Women who have Found the Sweetness in Every Day and Embracing Your Authentic Self: Women's Intimate Stories of Self-Discovery and Transformation. All of these inspirational titles hit the top of the charts within hours of their release. They bypassed industry leaders and titles such as Tony Robbins, Oprah's Book Club Pick, Ruby, Chicken Soup for the Soul, The Alchemist and The Artist's Way and stood heart-to-heart on the bestseller list alongside Louise Hay's You Can Create an Exceptional Life and Eckhart Tolle's The Power of Now as well as The Four Agreements by Don Miguel Ruiz.